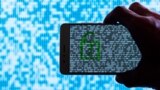 Home Affairs Minister Karen Andrews says Australia lives in "very uncertain times".
Ms Andrews said safety and security underpin the government's plan to ensure a strong Australia and to ease cost of living.
"Whether it's foreign interference threatening our sovereignty or whether it's the going threat of terrorism," she said.
"We can't afford to be complacent about the range of threats that are facing our nation."