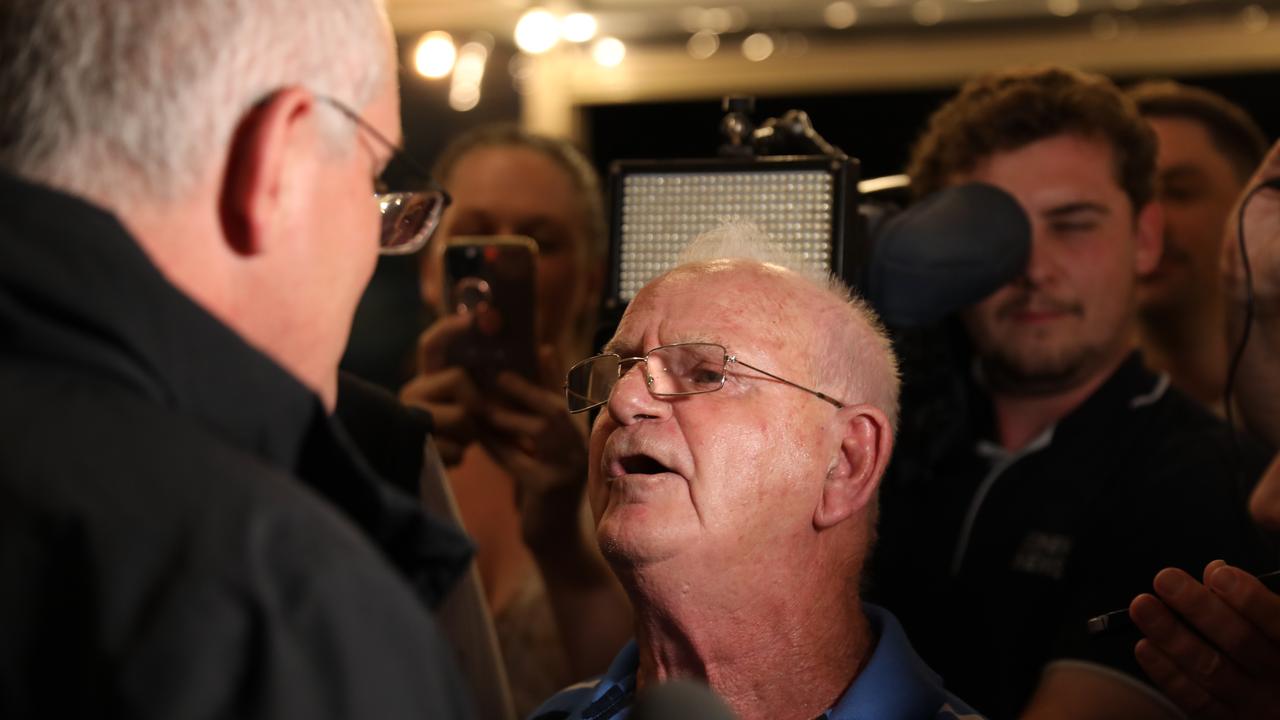 Despite every poll and every pundit predicting an ALP win, there is still one way Scott Morrison just might be able to sneak in another surprise victory against all odds.
The Coalition cannot win this election but it can make Labor lose it.
Despite seemingly every poll and every pundit — including myself — predicting an ALP win there is still one way that Scott Morrison just might be able to sneak in another surprise victory against all odds.
But before we look at that pathway let's have a look at the landscape.
Virtually every pollster and party strategist I have spoken to says the same thing: The public has turned against the Prime Minister and his party but they haven't quite turned towards Labor.
One major league pollster told me there was a massive amount of negative sentiment towards Morrison while the sentiment towards Anthony Albanese was divided between positive or neutral.
A senior Labor figure confirmed this was what they were picking up on the ground: Voters had definitely made their mind up about Morrison but not necessarily about Albanese. An ALP strategist told me they had never seen such anger towards a sitting prime minister, even in the nadir of the Gillard government.
Another pollster and another Labor strategist independently made the same apparently contradictory prediction: Either Labor wins in a landslide or the Coalition scrapes home by the proverbial bee's appendage.
So what does all this mean? Well, it ain't pretty.
For starters, there is no chance of boosting Morrison's standing in the few short weeks until polling day. The voters have made their mind up and the member for Cook is cooked.
And in truth the PM has already had his rehabilitation. After the disastrous fallout from his bushfire holiday he restored his fortunes with his response to the Covid crisis but this political capital was squandered again by the slow vaccine rollout and the lockdowns that followed.
Even his own side clearly thinks he is a goner, which is why fellow Liberals are now publicly denouncing him while previously private denouncements are mysteriously rising to the surface. No political bandwagon is so heavily populated as a pile-on over a leader in decline.
But decline does not equal death. All this means is that he cannot make himself look good. It doesn't mean he cannot make the other side look worse.
Morrison has already pulled off one miracle victory by reversing the traditional axiom of Australian politics: That oppositions do not win elections, governments lose them.
He did this in 2019 by brutally and relentlessly attacking the presumptive prime minister-elect Bill Shorten and his presumptuous suite of policies. Thus the government did not win that election, the opposition lost it.
The government is desperate to repeat the trick but this time Labor is a much smarter political animal. Guided by the NSW Right and his own down-to-earth instincts, Albanese has junked all the woke rhetoric and wealth redistribution.
Instead he has run a highly disciplined small target strategy that is both simple and smart. As a result Morrison finds himself in the ring as a heavyweight with no opponent to hit.
This means that Coalition will have to find other political bogeymen — sorry, bogey-non-gender-specific-persons — to target. And of course this is where the lunar left comes in.
While Albo has been the very model of a modern major moderate, the past three years have seen an explosion in the number and ferocity of left-wing activists hitching themselves to the Labor brand and saying all manner of outlandish things.
This ranges from self-made social media polemicists to pretty much anyone who uses the #IStandWithDan hashtag. And you can rest assured the Coalition has been cataloguing every grotesque and abusive slur ever uttered in Labor's name.
Already we have seen the so-called climate "independents" starting to be derailed by nasty online comments about Israel posted by their supporters and campaign workers. And — no doubt by complete coincidence — swastikas have been scrawled on both Liberal and Labor corflutes. Not a great look when you're trying to win over large Jewish communities.
And this is only the activity in affluent Liberal seats that has come to light. Now that the election has been called just imagine the treasure trove of vile and crazy comments from supposed Labor activists that has been amassed by Coalition HQ.
None of this actually reflects the position of the ALP itself. In fact it does a great disservice to the sensibility which has been restored to Labor under Albanese — as well as great state leaders like Chris Minns in NSW and Peter Malinauskas in SA — but it will hurt the party nonetheless.
Indeed, as an infamous and regrettable tweet from the official ALP account once observed: "It's the company you keep."
And so deprived of the ability to crucify Albo or the broader Labor leadership on a cross of their own making, you can bet London to a brick the Coalition will turn to the angry ramblings of self-appointed Labor activists as evidence the party cannot be trusted with government.
Once more Labor's loudest and angriest supposed supporters are in fact the party's greatest enemy, while those who actually do the thinking and working are trying to forge an electoral path to victory. It's a fair bet the voters of Flynn and Longman and Capricornia will be unmoved by the number of teardrops in a Twitter profile.
The more extreme Labor enthusiasts become the more easily the Coalition will be able to cast them as extremists and the more likely undecided regional and outer suburban voters will shy away from them in the seats that matter.
And that is Morrison's only path to victory: A road paved by fools.
Watch Joe's new show The Blame Game — 8.30pm Fridays on Sky News or stream on demand at flashnews.com.au
Read related topics:
Scott Morrison