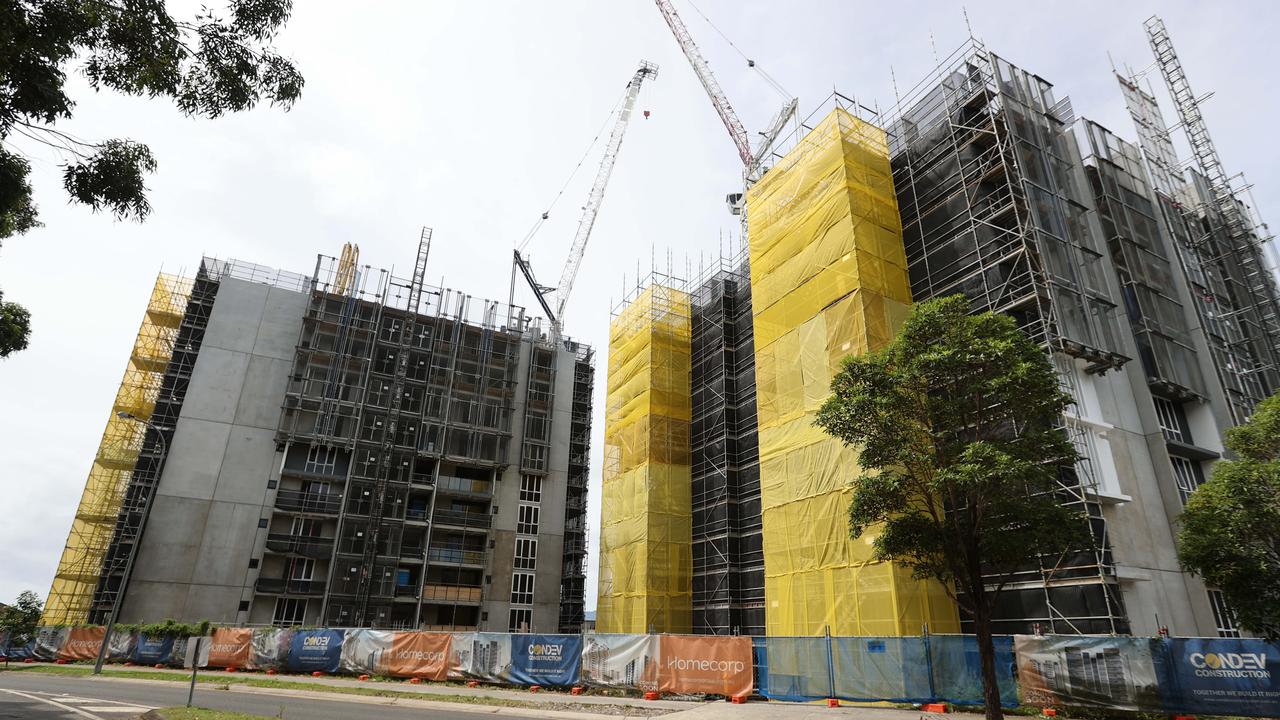 A building insider has revealed the shocking state of the industry with half of construction companies in trouble and a "terrible" impact in store for customers.
A stark warning has been issued that half of Australia's building companies are on the brink of collapse, and it could see thousands of people's homes impacted in the coming months, according to an industry insider.
Two major Australian construction companies including Gold Coast-based Condev and industry giant Probuild have already gone into liquidation this year, alongside smaller operators like Hotondo Homes Hobart. And it has sent shockwaves through the sector.
But it's the "tip of the iceberg" according to Russ Stephens, co-founder of the Association of Professional Builders, who has estimated around 50 per cent of Australian building companies are currently trading insolvent – which means they can't pay their bills.
It could leave customers forking out hundreds of thousands extra to get homes completed once a company collapses, he said.
"Just one building company collapse could literally impact thousands of consumers," he told news.com.au.
"It's easy for a large company to delay a decision to go into liquidation by six months or even a year … However, as we get towards the end of the year it's probably safer to predict it could be thousands of consumers affected by collapsing building companies."
Many building companies have lost "a lot of money" in the last 12 months due to an "exponential rise" in prices – anywhere between 15 to 50 per cent – Mr Stephens said, but they have not been able to pass on costs to consumers due to fixed priced contracts.
"Builders have had to absorb the costs but what has compounded the problem was not just the rise in materials prices, but also the delays due to Covid," he said.
"Builders have a limited amount of projects they can take on at any one time and when a project usually takes 25 weeks but has pushed out to 30 weeks, it means fixed expenses go up but the cost to the consumer stays the same.
"So there is less revenue and their profitability plummets quite dramatically due to delays and those factors combined to result in builders losing money all throughout 2021."
Customers could be forking out $40,000 to $150,000 more
Mr Stephens, who has been in the building industry for 16 years, said it's not fair that a builder should be responsible for rising costs that are out of their control.
He has suggested that cost escalation clauses need to be used more commonly in building contracts, although he acknowledged that would mean extra pressure on consumers as they would be slugged with the rising prices.
He predicted Aussies currently building would need to fork out an extra $40,000 for the average home if costs were passed on.
"It would expose the consumer to rising costs and it's a no-win situation," he said.
"At the moment we have a situation where consumers' homes aren't being finished as the building company is failing – and we are seeing consumers where the job hasn't even started – and they have had to go and get a contract signed with a builder and costs have gone up by $150,000.
"That highlights the problem faced by builders – that $150,000 would have had to be absorbed by the original building company if they hadn't gone under. Is it fair that the builder absorbs the losses or do we need consumers to bear the brunt? It's not easy for either party."
A family caught up in the collapse of Inside Out Construction in Tasmania last year had been told it could be up to $180,000 more for their half-finished house to be completed.
It remains to be seen how customers from notable projects in Condev's reported $1 billion development pipeline will be impacted.
The projects included the Cannes Waterfront in Surfers Paradise, The Brookes Residences in Varsity Lakes, Natura and Brake Street both in Burleigh, and the Jindi Apartments in Palm Beach.
For Probuild, their projects included a Queensland build featuring 264 luxury residential apartments and the $300 million Melbourne site offering eight buildings with 437 apartments, although it's reported that both developers had taken back their sites.
Hidden state of building companies' finances
The reason why so many building companies are in trouble is they have collected advance payments to complete houses – meaning they are showing a healthy bank balance – but this disguises the dire financial situation they are actually in as they often haven't factored in bills, Mr Stephens said.
"Even a small business company with annual revenue of $6 million could hold half a million in the bank in advance of paying invoices and it's important to understand what their liability is before spending money because they believe it's profit. It's one of the biggest challenges in the industry," he said.
"They are able to continue trading as they have positive cash flow and this is where it's the tip of iceberg as if they continue operating at a loss – sooner or later they will run out of money, and that normally happens when sales start to slow and less money is coming in."
US credit agency Equifax's recent data found the Australian construction industry is experiencing a 21 per cent drop in demand compared to March last year.
It also reported an increase in construction industry insolvencies, which are 28 per cent higher compared to 12 months ago, with the agency predicting more to come especially for those that are thinly capitalised with concentrated risk, project delays and lower margins.
'A perilous state'
Mr Stephens added a small mum and dad building company would typically look after annual revenue between $3 million and $10 million, yet the profit margin is small.
"Around 95 per cent of builders operate on 3 per cent or less profit margin, so a rise in costs or delays can put those guys in a perilous state," he said.
"Equally for any businessperson who has high cash flow and who is collecting money in advance, they have to be across the financials in order to ensure they are holding back enough cash to pay subcontractors and suppliers.
"As we enter 2022, large companies that are very across their financials can look at their work funnel and look ahead at how much money they are going to be losing or making. Bigger companies tend to go into liquidation earlier than the smaller ones as they realise there is no point in continuing to trade and it's the right decision as they just end up in more debt."
State most at risk and the continuing Covid impact
Queensland is more at risk of building collapses than the rest of the Australia, due to a quirk in the system where builder licensing is run by a government body, compared to private insurers in other states that look more deeply at company accounts, Mr Stephens said.
Despite Covid restrictions easing in Australia, the pandemic is still having a "terrible" effect on the building industry in terms of staff shortages and availability, he added.
"Builders are constantly having to reschedule sub trades because of Covid outbreaks where there simply isn't the staff to do the work and that has a knock-on effect as the construction of a new home is a process, so a five-day delay just blows out the handover date and that costs the builder more money," he said.
"Covid is not an annual illness, people are getting it within three months or shorter after a previous infection and that is using up sick days, taking people out of [the] workforce and impacting the construction industry quite heavily right now."
Even a rise in interest rates is going to mean the construction industry takes a hit, Mr Stephens said, because demand for building homes – which reached record levels during the pandemic – will drop.
"When that happens, this is where you will see building companies that have been losing money but surviving on cash flow, collapse," he said.
'Gambling' if going with the cheapest quote
For Aussies looking to build their dream home, he said going with the cheapest quote may not be best decision for the "biggest investment in their life".
He warns that if a builder has instant availability to start a project that is also a red flag as most professional companies are generally booked out 12 months in advance.
"If a builder gave a quote six months in advance and doesn't come back with a revised price, then that's probably a warning signal if they are not passing on increases – there's a good chance that they are trading insolvent," he said.
"It also means that consumers need to be open to renegotiating their contract before construction starts if their contract or previous quote is more than 90 days ago, as the speed of materials going up means if the builder doesn't renegotiate, they will be losing money.
"Consumers should be more concerned about a builder losing money on a job rather than a builder becoming more expensive, and the ultimate consequences is the costs to consumers will be a lot more when a builder fails, rather than going with a more expensive builder."
Mr Stephens also recommends that if you're building your own home that you have a "sizeable" contingency amount for extra costs that may pop up.
He also warned that Aussies shouldn't delay building their dream home as costs aren't going to go down in a year's time.
"If you do go looking for the lowest quote, that's just gambling – you are really taking a punt that the builder is going to be around to finish the home and the odds are stacked against you," he said.
"Builders who are producing the lowest quotes are going to be the first to go. Right now, it's a time for research and making educated decisions."